Tragedy child
Remains of Ryojun's residence (Hachinomiya ruins)

When you leave Shogenji Temple and turn left, you will find the Ryokan Meiji.
This is the place where the residence of Emperor Ryojun was washed away in the Edo period during the reign of Tokugawa Iemitsu in 1643.
Emperor Ryojun (Hachinomiya) is the eighth prince of Emperor Goyosei.
Touched by the emperor's anger, he was expelled from the capital and washed away in the country of Kai.
According to one theory, Yumura, which was called Yushima-mura at the time (also known as Yunoshima and Yushima), seems to be like an island if the word "island" is included. Is said to have been renamed to Yumura.
It is said that he lived in this place and in Koinji temple (Shimosekisuiji, Kofu City) and left some poetry.
Whenever I hear the humming of cuckoo, I miss the central city.
Flyaway through this small village over, Yama-Hototogisu (Wild Cuckoo).
A worried writer-the place of writing in Osamu Dazai

Osamu Dazai first visited Yumura in June 1942.
He set up a new house in Kofu early in the year following his marriage and before moving to Tokyo in September.
At the time, Yumura Onsen had about 10 ryokans built across several sources.
According to the novel "Bishoujo",
Osamu Dazai first cisited Yumura in June 1942.
Immediately after the marriage, from setting up a new house in Kofu until moving to Tokyo in September.
At that time, about 10 Japanese inn were built at Yumura Onsen across several sources.
According to the novel "Bisyojo"…
"There was a pretty large gurb in the front yard of the public bath in Yumura, and the red flowers were in full bloom."
"The bathhouse seems to have just been built recently, and there is not dirt, pure white tiles are set up, and the sunlight is full."
He wrote in this way.
What is weitten here is "Meiji Onsen".
He only came a few times when he lived in Kofu, but after relocating to Tokyo he will often visit Yumura.
Dazai has stayed at Meiji Onsen for the time of writing since mid-February to late 1942 and twice in the middle of March 1943.
At that time, the Meiji era was housed like a photo, with the second floor used for guest rooms.
Dazai occupied both the first and the second room with the best view of the left main house (today, Futaba-no-ma).
He wrote in the bright second room, waking up at the first room.
He seems to have been sleeping in the morning, but he said he was always wearing a hakama when he woke up in the morning, so he was quite stylish.
The person at the hotel did not know that he was a novelist at first, but when he asked the person in charge, he was writing something, so it turned out much later.
The two novels I wrote at Ryokan Meiji are "Justice and Smile" and "Minister Sanetomo".
He had a deep connection with Yamanashi since he came to Misaka-toge Tenge Chaya in 1938, and in 1945 he evacuated to his wife's parents' home, but soon burned down and returned to his home in Aomori.
I think he never visited Kofu until his death.
The model of the comedy "Ekimae Ryokan" is located in Yumura
~ Masuji Ibuse ~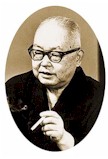 Osamu Dazai visited Koshu Yumura on the recommendation of his teacher, Masuji Ibuse, but in fact Masuji Ibuse also liked Yumura very much.
It is said that the comedy "Ekimae Ryokan" (appeared in Hisaya Morishige and Frankie Sakai) was based on a story he heard from his first friend, "Goro Sasamoto", the first president of " Tokiwa Hotel" (the entrance of Yumura Onsen).
Yumura Onsen also appears in Osamu Dazai's "Ousons Sensei's Word Record" .
Off course, "Ouson Sensei" also refers to Masuji Ibuse.
There is also a story behind the masterpiece "Sanshouo"

Four or five days later, I traveled to Koshu. Yumura hot spring outside Kofu city, a hot spring in a rice field without any strangeness, but close to Tokyo, it is quiet and quiet, and the hotel is honest, so when I work, I decided to go there a bit and lock myself up in a room of an old ryokan called Tempokan to start work.
But the trip at that time was a complete failure. It was the end of February, the rust of wind blowing every day, the shattering shutter shattered, and I could not sleep well at night. Clinging to (Kotatsu), I could not do any work, and when it was rotten, a showcase hut hanged on the open space just in front of the inn and started a fuss.
I came when it was bad. Every year, just around that time, there is a festival of Yukuyoke Jizo in Yumura. It seems to be a very profitable Jizo, and prayers from Shinano and Minobu come all day and night. The exhibit has begun calling on the worshipers for a fuss. I stamped my feet in frustration. I knew from a long time ago that I had a festival in Yumura at the end of February, but I was careless. It has become ridiculous.
I abandoned my job. Then he put a Haori on the inn's Tanzen and decided to visit one of the Jizo, and then decided to pull it up. When you leave the inn, there is a show hut right in front of you. The tent flutters in the storm, and person "Kidoban" who was near store calls out loud. When I saw the signboard, I noticed that a large swamp was drawing a place where young and old men and women were pulling a net, which was a little curious. I stopped.
"Hokinokuni is the farmer of Yodoe village, Taro Saemon, who has been working on salt for fifty-eight years," said Kidoban.
Hoki country Yodoe village.
Thinking for a moment, I was appalled. It is not an exaggeration to say that the blood in the whole body has regurgitated. That's it! That's one case.
"The length is 3 meters, the width of the head is 1 meter,-"
Kidoban keeps shouting. My blood flows further and goes raging. That's it! Sure, that's it.
Hoki country Yodoe village. no mistake.
The swamp of this picture may have made the pond in the garden of that "Ikunu Routou" mysterious.
Then, in fact, it must have lived in the pond of "Ikunu Routou".
May be a little exaggerated, but anyway, there's that big—sanshouo!
Now I am lying in my filthy hut in front of me.
What a chance!
Ouson Sensei burned in his old chest and fell in love with him, the best monster in Japan, the worst monster in the world, not a monster, a wasteful story, a spiritual thing, unthinkable, a show of Yumura Becoming is a dream-like story
Bungo prefer hot water treatment ~ Katai Takayama ~

 Katai Tayama, known for his works such as "Country Teacher" and "Futon", has also published numerous travelogues.
Yumura Onsen is also described as a hot spring tour, but at that time the temperature was so low that it was not a hot spring favorite hot spring.
The "Onsen Hot Spring Tour" states:
Yumura Onsen, which is located just one mile from Kofu, is warm but not hot water, so it is a little better than Enzan Onsen.
It can't be called as Asama in Matsumoto.
Simply speaking, from the facilities, it is far below.
However, Kofu people often go out to play with geisha.
Even if a geisha participates, the hot spring is in the same area as Kofu city without going out.
But Kofu is hot.
Maybe it's hotter than Tokyo.
Therefore, it was not a hot spring resort suitable for summer vacation.
An illustration artist coloring a mysterious novel-Eitaro Takenaka-
It was almost impossible for Yumura residents to know that "Eitaro Takenaka," an illustration artist who worked on illustrations such as the Edogawa Ranpo series, lived on the hillside of Yumura.
I guess it was because my job was to sharpen my nerves, so I wanted to hide my identity and carry out my daily life.
When I went to the mountains to play, I passed through the garden of my teacher's house and ran around in the mountains.
In addition, my sister had her daughter teach her childhood painting, but she never knew of a famous teacher's house at that time.
Go to the page Eitaro Takenaka Museum
Haiku magazine "Unmo" connecting the poet Dakotsu Iiad and the Western painter Munehisa Nakamura

 The haiku poet Dakotsu Iida from Yamanashi Prefecture often held haiku parties at Yumura Onsen.
The haiku magazine "Unmo" introduces several pages of the haiku party at Tokiwa Hotel and Ryokan Chishima (already closed) at that time.
The cover of the Unmo at that time was written by a Western painter Munehisa Nakamura who lived in Yumura, and his home remains even today.
In the essay Unmo, the state of Yumura at that time was also written in an interesting and detailed manner.
"When I asked a fat landlady about the availability of the room, she said that I can choose any room I like."
I'm wondering if I want to make a cool 12 tatami room on the first floor or a room with a bright view on the second floor.
Eventually, it is decided on the 9th room on the 2nd floor, and the view from there is described in detail.
The foot of Yatsugatake forms the highlands of Tomi up close to the west window. Under the windows, the refreshing watering of Sekiya across the planting is steady, and large buildings of Fuchu are scattered east and west, far to the east.
In the area of Aota, where there is no house on the departure and arrival, automobiles coming and going to Kofu and Ontake are emitting smoke and smoke.
Trees of the Arakawa embankment, which separated Aota in front of it, are thick and thick. Behind them, Mt. Kushigata and the ridges of the Akaishi Mountains have dark green shades on a thin day when they are blocked by floating clouds.
The color of the autumn approaching sun is approaching silently on the window railing without sound. "
At the beginning of the art book, the words of Ryuta Iida, the fourth son of Dakotsu Iida, are attached.
Ryuta Iida and Masuji Ibuse are great fishing friends, and there is a manuscript "Ryuta Iida fishing" at the Prefectural Literature Museum. It is conceivable that the time when Showa literary artists and painters gathered in Yumura from such a place may have been based on the friendship of Munehisa Nakamura.
Search